Meet Our Team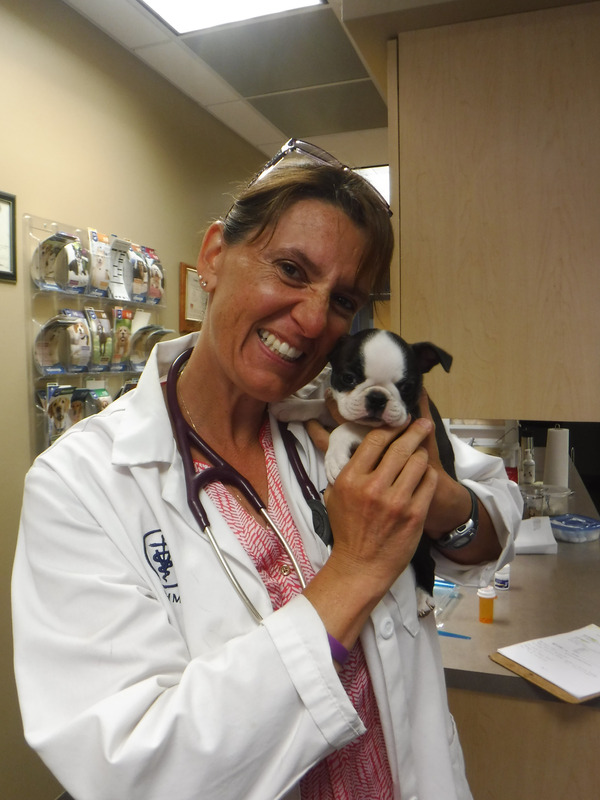 Dr. Enita Larson
Owner / Veterinarian
Enita Larson, DVM is a 1995 graduate of Kansas State University. With over 20 years of experience, she has done a surgical internship, worked at a very busy 24 hour hospital, spent 1 ½ years performing emergency work , and has handled relief work all over eastern Nebraska. She has a professional interest in geriatric medicine and ophthalmology. Her wide range of experiences has helped her become confident and knowledgeable in a variety of areas. Enita has two teenage children, a German Shorthair Pointer , a cat and fish. In her spare time, Enita enjoys triathlons, swimming, and gardening.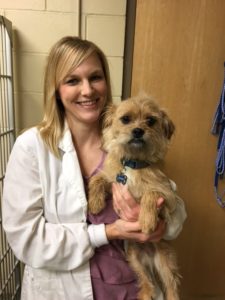 Dr. Shelly Gissler
Veterinarian
Shelly Gissler, DVM is a 2003 graduate of Kansas State University. She previously practiced small animal medicine in Sioux Falls, South Dakota and Lincoln, Nebraska before joining Tender Care Animal Hospital. Dr. Gissler has a special interest in Internal Medicine and Dermatology. She and her husband Aaron have 2 children, a Brussels Griffon mix named Baxter and a cat named Nala. In her spare time, she enjoys playing sports, spending time with family, and reading.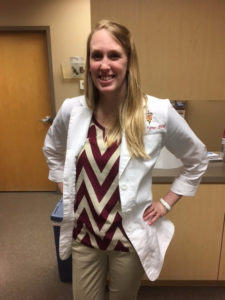 Dr. Ashlynn Turner
Veterinarian
Ashlynn Turner, DVM is a 2013 graduate of Iowa State University. She is originally from the Omaha area and recently moved to Gretna with her family. Dr. Turner has a special interest in Internal Medicine, Dentistry and Ophthalmology. She and her husband Matt have 2 boys and a cat named Yoshi. In her free time she enjoys traveling, spending time with family and being outside.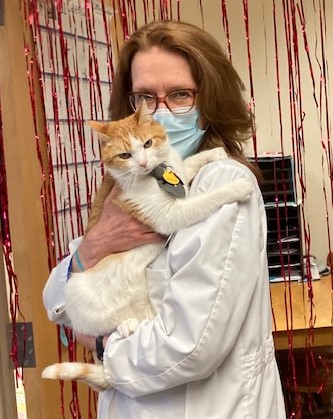 Dr. Lori Gustafson
Veterinarian
Dr. Gustafson graduated from Ross University School of Veterinary Medicine in St. Kitts in the Caribbean. She has 1 cat named Pilgrim, a puggle named Zelda and a poodle mix named Doug.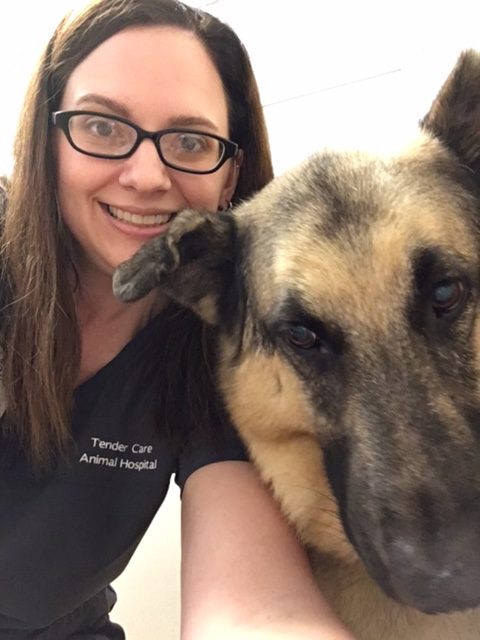 Michelle
Hospital Administrator
Michelle has worked as a Veterinary Assistant in Lincoln and Gretna since 2004. She was promoted to Hospital Administrator of Tender Care in 2020. Michelle and her daughter have a Pit Bull named Pixie, an English Setter named Bettie and 4 cats: Pooter, Akasha, Peyton and Joey. They also have a Crested Gecko named Saturn. In her free time, she enjoys hiking, kayaking, Nebraska volleyball and going to concerts.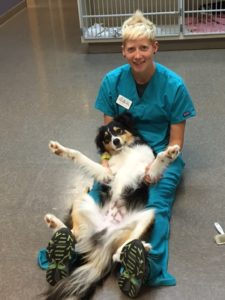 Laura
Licensed Veterinary Technician
Laura graduated from Vatterott College with an Associates in Applied Science degree in 2010. She lives in Omaha with her husband, son and their pets, a Sheltie mix named Ned and a rescue cat named Neko. In her free time, Laura likes to read, take walks, do photography and play video games.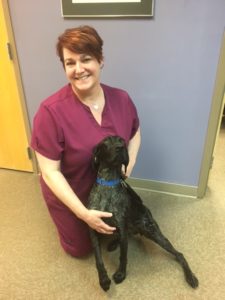 Shelly
Lead Licensed Veterinary Technician
Born and raised in Omaha where she attended college and received her veterinary technology degree in 1997. Her work experience includes small animal hospitals, including emergency services, veterinary product service and sales and pet nutrition. She has a tuxedo cat named Chaplin that she adopted from the Nebraska Humane Society. She is pictured with Dr. Larson's dog Charlie.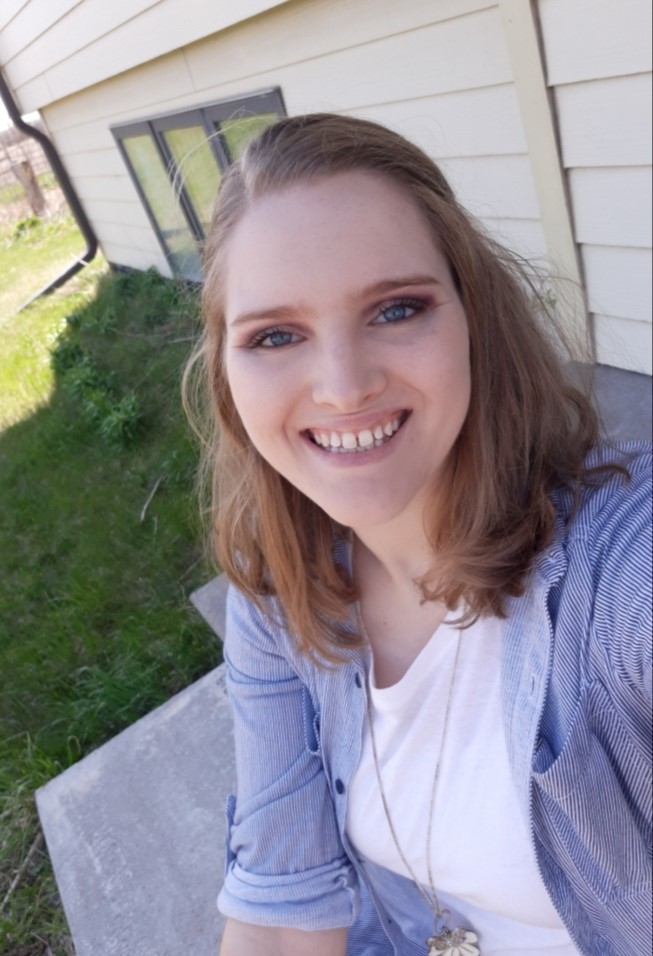 Taylor Stephens
Licensed Veterinary Technician
Taylor graduated from Northeast Community College in 2020. She has a German Shepherd name Kazi.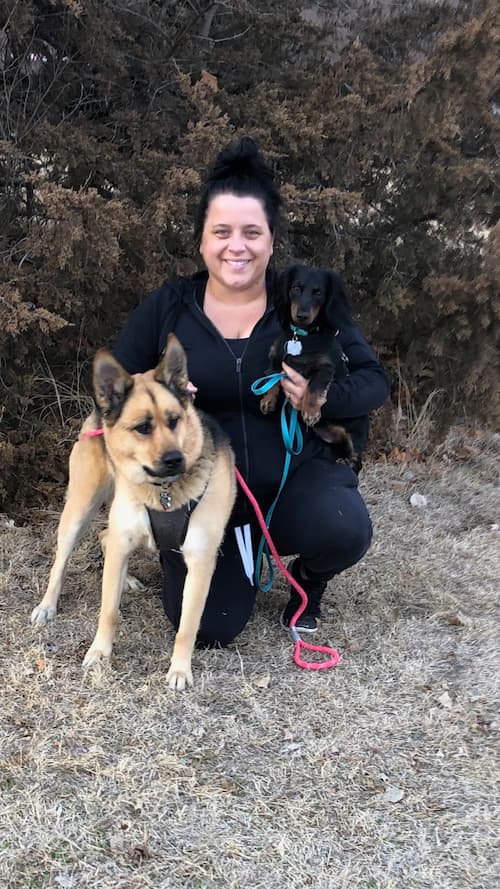 Kim
Veterinary Assistant
Kim was born and raised in Omaha NE. She graduated from UNO in 2017 with a Bachelors of Science in Criminology and Criminal Justice. Kim previously worked as a case manager in child welfare before deciding to make a change to the veterinary field. She is currently in school to be a veterinary technician. She has 3 dogs; a German Shepherd/Husky named Layla Jo, a dachshund named Dagwood and a Labrador Retriever named Melvin. Kim loves spending time outside camping and fishing as well as photography.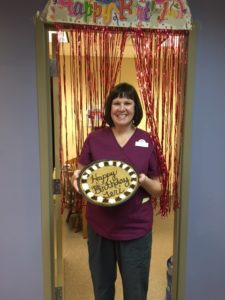 Teri
Receptionist
Teri was a star volleyball player in college at the University of Oregon. Now she likes to come to work at Tender Care and watch "her stories" with the other Terry and gossip about celebrities. She has 2 daughters and 2 dogs; a Westie named Keeley and a Toy Poodle named Ella. She and her husband Marty enjoy Creighton volleyball and going to concerts together.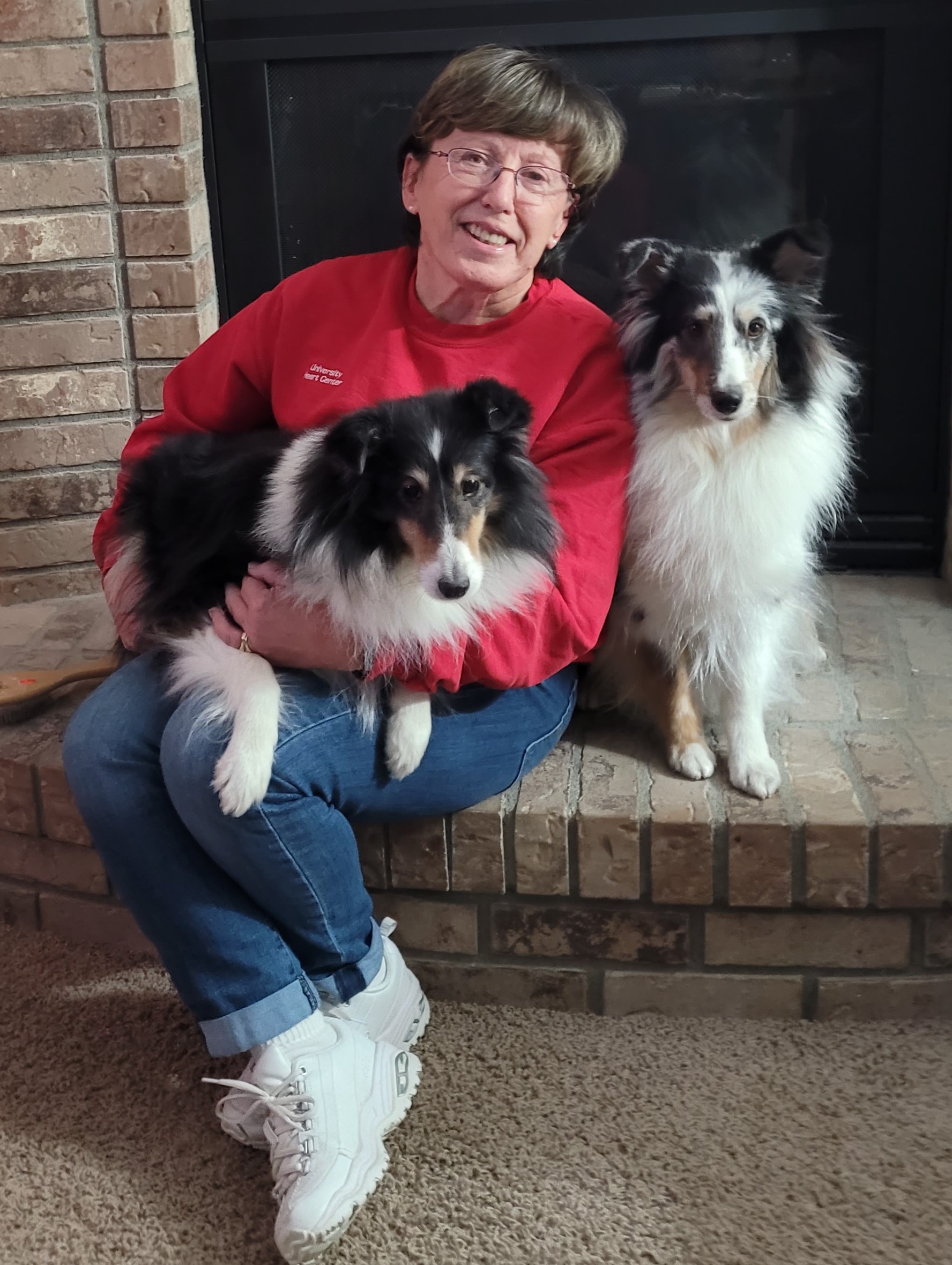 Gretchen
Receptionist
Gretchen retired from UNMC as a Research Technician after 26 years of doing cardiac research with pigs before she joined the Tender Care team. She and her husband enjoy Nebraska and Creighton sporting events, traveling and reading. Gretchen travels with and shows Shetland Sheepdogs. She currently has 2 Shelties, Grand Champion Dreamer and Mya.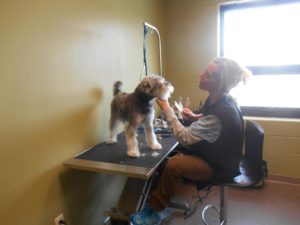 Jewel
Groomer
Jewel grooms all breeds of dogs and works hard to make sure that all pets feel as comfortable as possible during the grooming process. She has a Pomeranian of her own named Lola. Jewel enjoys running, the Pittsburgh Steelers and country music.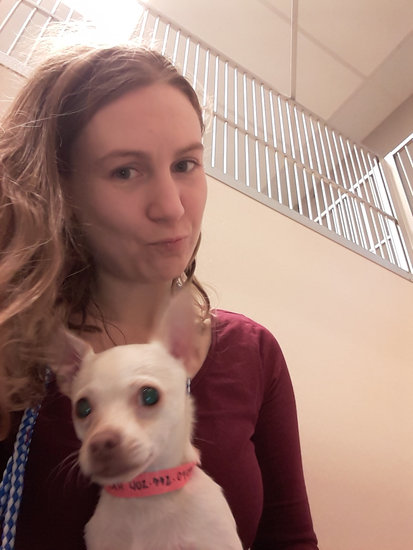 Amy
Boarding Manager / Receptionist
Amy moved to Gretna from Pittsburgh, PA with her family about 4 years ago. She and her husband Paul have a son, 2 cats and a Labrador Retriever named Lady. She was previously a Co-Manager at a large boarding facility in Pittsburgh, PA. In her free time she enjoys spending time with family, taking her son to the park ,visiting family in Florida and Pittsburgh and spending time outdoors.
Kennel Attendants: Liz, Madison, Sydney, and Tresa
Our Kennel Attendants enjoy spending time with the dogs and cats that come to board at Tender Care. They let the dogs outside, feed them, and give them lots of belly rubs. The cats that stay with us get fresh litterboxes, food, and lots of attention. Thanks for allowing our Kennel Attendants to care for your furry family members while you're out of town!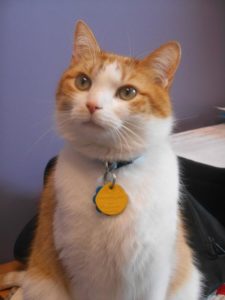 Millicent Bystander
Clinic Cat / Official Greeter
Millicent presented to our hospital for euthanasia due to a very complex pelvic fracture after being hit by a car. Even with non-functioning rear legs, he was still kneading with his front legs! The staff immediately fell in love with him and it was decided he would be our charity of the year. Everyone pitched in to help with his medical bills and a board-certified surgeon put his pelvis back together. After only four weeks of cage rest, Millicent is fully healed and has no problems getting into everything! Be sure to look for him at your next visit or follow him on Facebook. His usual perch is on the fax machine or sleeping in the office.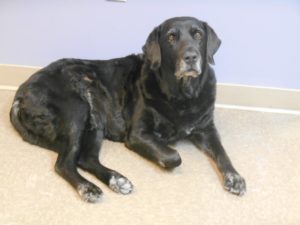 Trooper
In Loving Memory 2003-2017
Trooper came to Tender Care Animal Hospital via a State Trooper in October 2006. He was found running on the interstate near the Platte River. He came with no collar, tags or microchip. After a month of unsuccessful effort to locate his owner, Dr Larson elected to keep him. He was a sweet addition to the hospital as he greeted all who entered.

Trooper used to accompany Dr. Larson on her daily runs until he started limping one day. X-rays revealed that Trooper's ACL's (the ligaments in his knees) were torn and he had developed arthritis in both knees. A board-certified orthopedic surgeon did a surgical procedure called a TPLO on both sides approximately 6 weeks apart. This is a procedure in which the leg is essentially broken and plated back together to stabilize the knee. After months of rehabilitation, he walked without pain and was doing great.

Trooper retired from coming to the clinic every day in 2015. He spent his last year sleeping at home and wandering around the duck pond. He is greatly missed by Dr. Larson, all of the staff and clients who grew to love visiting him here at the clinic.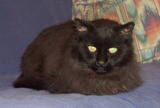 Willie
In Loving Memory 1987-2008
Willie had been with Dr Larson for nearly 21 years. He mostly slept in the office or in his heated bed. Occasionally Willie would make the rounds for treats or to beg for more canned food. Willie was a special part of our family and will be dearly missed by all who knew him.